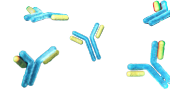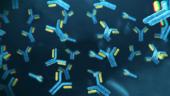 We are developing the next generation of immunomodulatory antibodies that activate the immune system against cancer.
Antibodies are part of our body's natural search-and-destroy army. Different antibodies can be designed to target different types of cancer; enhancing, modifying, or mimicking the immune system's attack on cells. 
At BioNTech, we use our expertise to harness different biological pathways of the immune system and design pioneering cancer immunotherapeutics. Based on our and our collaborators' technology know-how, we are utilizing a variety of antibody technologies including bispecific antibodies in our Next Generation Checkpoint Immunomodulators platform and single monoclonal antibodies in our Targeted Cancer Antibody platform.
At a glance: Antibodies as a therapeutic drug class
Proven technology that has fundamentally changed cancer care improving treatment outcomes and quality of life by engaging the immune system
Natural molecules that are the immune system's first-line defense mechanism
Flexible drug class that can be engineered to address one or more targets of choice
Established manufacturing for off-the shelf treatment
Employing bi-specific antibodies to combine multiple cancer-targeting mechanisms in one drug
Bi-specific monoclonal antibodies represent a powerful new therapeutic treatment option as they can bind different targets (e. g. cancer cell proteins or immune cell proteins) simultaneously. This property makes them relevant in complex cancer indications where tumor cell recognition by immune cells is impaired or more than one key molecule should be targeted. 
BioNTech is developing specifically formatted bispecific antibodies with Genmab, that have the ability to bind two targets at the same time. A new class of checkpoint immunomodulators, they are designed to simultaneously block targets that cancer cells use to silence the immune system as well as conditionally stimulate immune cell functions. This approach is able to enhance cytotoxic properties at the tumor site leading to the destruction of cancer cells.

Leveraging targeted monoclonal antibodies to address cancer-specific structures
Monoclonal antibodies, or mAbs, represent a specialized laboratory-produced class of antibody therapeutics that are engineered to recognize and identify specific proteins on cancer cells. These targeted antibodies can be used to bind to a particular target structure on the surface of the cancer cell, thereby flagging it for subsequent destruction through immune cells.
At BioNTech, we are developing monoclonal antibodies against a novel target expressed specifically in pancreatic and other gastrointestinal cancers. This target plays a role in metastasis formation and is a marker of an aggressive form of cancer. Directly blocking this target with a monoclonal antibody offers the possibility to interfere with cancer cells migrating to other tissues, thereby inhibiting metastasis formation.

Our antibody discovery engine enables rapid and efficient production of new mAb candidates, aiming to change the cancer treatment landscape
Our antibody discovery platform can generate and develop highly specific, functional monoclonal antibodies (mAbs). These antibodies are well known for their exceptional and unique target specificity and high affinity while showing a reduced risk of being immunogenic. This corresponds with a better safety profile. This proprietary antibody platform is also used for the identification of alternative antibody formats. With the use of the antibody discovery platform, tumor- and immune cell-specific binders are thus made available for our drug classes.
Combining our antibody knowledge and mRNA expertise, we aim to establish a truly revolutionary class of antibody therapeutics, directly produced in the patient's body. Learn more about our mRNA-encoding antibody platform RiboMab here
Combining our antibody knowledge and mRNA expertise, we aim to establish a truly revolutionary class of antibody therapeutics, directly produced in the patient's body. Learn more about our mRNA-encoding antibody platform RiboMabs here