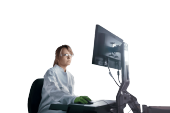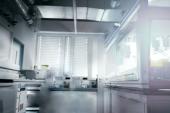 We are committed to improving global health by developing the next generation of immunotherapies. Join us and be a part of our unique pioneering spirit
At BioNTech, we value fostering a healthy work culture that motivates our employees. Our company embraces a flat hierarchy in which we address each other by first name, regardless of seniority. We do not adhere to a dress code unless, of course, we find ourselves in the lab. Although we are tasked with the serious mission of advancing individualized cancer care for patients, we believe in having fun while creating quality work, and enjoy taking time together to re-energize. We engage in a healthy work-life balance and leave the office feeling accomplished; some choosing to cycle home with company-provided bikes. We are an innovative company with a fresh spirit coming together from all walks of life to roll up our sleeves in the face of a shared mission and purpose.
Our scientific DNA, which is the foundation of the BioNTech approach, has attracted a talented team from over 60 countries around the world and we are always looking for dedicated and curious individuals to join our team of visionaries, entrepreneurs, scientists, engineers and business professionals.
Our people are our most important asset and we have designed our recruitment process to reflect our dedication to hiring outstanding people at every position. We aspire to ensure that the people we hire for BioNTech feel connected to our culture and values and encourage both candidates and our hiring managers to make the best selection for the next step in their career journey.
Interested in joining us?
Revolutionizing cancer therapy – BioNTech for Professionals
Since its inception in 2008, BioNTech is rapidly growing on its way to developing novel, individualized immunotherapies that will revolutionize the treatment paradigm for cancer patients worldwide. We are always looking for new talents that support us in a broad range of tasks.
R&D – The beating heart of BioNTech
BioNTech's growing versatile pipeline needs experts in several different scientific fields, spanning four drug classes. Our research focuses on a range of diseases including cancer, infectious diseases, allergies and autoimmune disorders. If you want to be part of our dedicated team of excellent scientists using cutting-edge technologies to improve global health, have a look at our Job Portal. 
Manufacturing – Enabling our individualized cancer therapies
We are expanding our manufacturing facilities – aiming to improve production time to provide truly individualized immunotherapies and vaccines to patients worldwide on short notice. Besides our locations in Idar-Oberstein and Mainz, where we are setting up a fully automated production plant for individualized cancer vaccines, BioNTech has established a commercial COVID-19 vaccine production in Marburg as well as cell therapy production capabilities in Gaithersburg, MD in the US. Ready to face these challenges and contribute to make a change in the treatment for patients who need it the most? Have a look at our Job Portal. 
Head Office Department – The connecting link
A functioning whole comprises more than simply research and production – our Head Office Departments create the connection between the two. This includes departments such as Project and Quality Management, Finance, IT, HR, Purchasing, Business Development, and Clinical Trial Management, where we regularly seek motivated team players who take care of the important tasks behind the scenes. Are you ready to make a revolution in the treatment paradigm for cancer patients possible? See on our Job Portal for exciting opportunities.
Be inspired – BioNTech for College Students
Looking to explore interesting opportunities in the life science sector? Get first-hand insights at BioNTech, a company dedicated to developing revolutionary immunotherapies!
We offer various options for motivated students to contribute in our exciting quest to fight disease – from internships over temporary to student employee positions. We also welcome applications for Bachelor/Master/PhD thesis projects that fit within our scientific focus.
We offer an attractive company benefits package including thirty fitness courses and more!
Browse our open positions
Future – BioNTech for High School students
With a team of over 3,000 dedicated people, BioNTech is pioneering the development of individualized cancer immunotherapies and revolutionize the treatment of patients worldwide. Join the team and become a pioneer yourself – with BioNTech as a strong partner in your future career!
At BioNTech, you can choose between a variety of training programs – from Biology Laboratory assistant to IT Specialist in System Integration. At our company, we value flat hierarchies and a friendly and welcoming atmosphere. For your way to work, you have the option of using a job ticket (Mainz/Wiesbaden region or RNN region) or a student ticket for Hessen (annual ticket for trainees). The remuneration is in line with current standard training rates. Our training programs are done in collaboration with Provadis and the Hochschule Fresenius.
Company pension scheme
In the manner of a large company, there is the possibility that BioNTech subsidizes your company pension plan.
Childcare
Our little pioneers should be very important in terms of care and BioNTech wants to make the balancing act between family and work easier, so BioNTech offers you multiple options for regular, holiday and emergency care.
Company Bike
At BioNTech, even the board of directors rides their bikes to work and therefore we welcome it when our employees also travel sustainably and at the same time do something for their health. So, let's promote it too.
Fitness Classes
It is important to stay active and fit. With our fitness offers, we want to provide our employees with the most flexible offers possible, e.g. such like yoga.
Life Situations Coaching
At any age and at any stage of life, good advice can open up new avenues. For our employees, BioNTech provides experienced coaches and offers selected eLearning offers if you wish.
Job ticket
Thanks to the cooperation between Deutsche Bahn and BioNTech, employees benefit from a job ticket at a significantly reduced cost compared to other seasonal railway tickets.
Holiday account
At BioNTech, employees have the opportunity to save a few days of annual leave in order to take advantage of them at a later date.
Special leave
BioNTech grants its employees special leave in special cases.
Note: The availability, eligibility and design of the listed benefits may vary depending on the location. The final requirements for the individual use of our benefits are based on the company's internal regulations.
United. Passionate. Innovative
BioNTech stands for visionary thinking and a pioneering spirit. We want to harness the power of the immune system to develop novel therapies against cancer and infectious diseases worldwide. And our culture is the basis for getting there.
What does that mean?
It means that we are always on the lookout – for new challenges and for people who want to tackle them with us.

We are innovative
We are open to new things. Developing and implementing bold ideas and new approaches – in all areas of our work – are the cornerstones of our success.
What does that mean?
It means that we are always on the lookout – for new challenges and for people who want to tackle them with us.

We are innovative
We are open to new things. Developing and implementing bold ideas and new approaches – in all areas of our work – are the cornerstones of our success.
We are passionate
We know why we do what we do. That's the reason we are enthusiastic about our daily work – and it shows.
We are passionate
We know why we do what we do. That's the reason we are enthusiastic about our daily work – and it shows.
We are united
We have each other's backs and see the diversity of our team as one of our great strengths. This mindset helps us to achieve even the most ambitious goals.
We are united
We have each other's backs and see the diversity of our team as one of our great strengths. This mindset helps us to achieve even the most ambitious goals
BioNTech was founded in Mainz, Germany and we are rooted in Germany with a global view. Since 2008 we have expanded our facilities to include sites in Mainz, Idar-Oberstein, Berlin, Martinsried and Neuried (Munich), Cambridge, MA, Gaithersburg MD and Vienna, Austria. Each of our sites brings a specific set of expertise and experience to our diverse team of over 3,000 employees. Find out more about our sites and the cities they are located in below. 
BioNTech's headquarters are located in Mainz. It is home also to several R&D and GMP-certified production sites for clinical products, including the iNeST® cancer vaccine. The capital of Rhineland-Palatine, Mainz is located along the beautiful Rhine River. The old town and promenade invite you to take a stroll or relax by the river. Mainz and the neighboring Rhine-Hesse area encompass Germany's largest wine-growing region, making the city an official member of the "Great Wine Capitals" group. Whether at a Saturday market, in a wine tavern, or by the Rhine, enjoying a wine spritzer is a must for the people of Mainz.
The city offers a rich historical and cultural scene - from St Stephen's Cathedral to the Gutenberg and Roman-Germanic Museums to the State Theatre and the Kammerspiele. Mainz is one of the carnival strongholds of Germany, where the typical "Weck, Worscht un Woi" meal (bread rolls, sausage and wine), is consumed long after the festivities are over. For football fans, Mainz 05 is the team to support during the suspenseful Bundesliga and derby games.

BioNTech Innovative Manufacturing Services (IMFS) GmbH is based in Idar-Oberstein near Mainz, where retroviral vectors, cell therapies and mRNA products are produced. The town of Idar-Oberstein is known throughout Germany as a gemstone town featuring goldsmiths and museums. Idar-Oberstein is located near the Hunsrück-Hochwald National Park, which is rich in premium hiking and cycling trails. One of the town's most popular sights is the medieval rock church ("Felsenkirche"), which towers over Idar-Oberstein at an exposed location.
In the surrounding castles and palaces, as well as the Celtic settlement of Altburg, you can re-trace the footsteps of your ancestors. Idar-Oberstein offers a range of high-quality cultural events throughout the year such as the Jazz Days, the Theatersommer, and the "Movies in Theatre" initiative.

BioNTech Small Molecules GmbH is located in Martinsried, just outside of Munich. It offers fully-integrated research services that cover all aspects of small molecule drug discovery. The MAB Discovery antibody facility, which was acquired in 2019, is located nearby in Munich-Neuried. The Munich area is Germany's leading biotechnology location with about 250 life science companies, two elite universities, prestigious scientific institutes, and two innovation- and start up-centres specialized in biotechnology.
Munich is the capital of Bavaria, and a global centre for arts, science, technology, business and education. The English Garden in the city center as well as the easily-accessible Alps offer countless outdoor activities from hiking to surfing on the Isar River. Munich is home to "Oktoberfest," where visitors from all over the world and locals meet to enjoy a "Maß" of the renowned local beers alongside hearty Bavarian meals – a typical example of the Bavarian spirit of "Gemütlichkeit" (coziness).

BioNTech's peptide manufacturing facility, JPT Peptide Technologies GmbH, located in Berlin, focuses on the development of novel individualized therapeutic approaches and epitope-resolved clinical immune monitoring. Berlin is one of the largest regions for science in Europe and has the highest concentration of researchers and academics per capita in Germany with over 70 non-university research institutions, two elite universities, and over 250 biotech and pharma companies.
Berlin is known as "the startup city" due to its tightly woven network of academia, industry and the strong presence of incubators and accelerators. The city's global business environment is mirrored in its cosmopolitan and open-minded atmosphere. It is no surprise that over than 13.5 million people visit Berlin per year to admire its rich history and modern-day attractions. Whether taking a boat-tour on the Spree or wandering around the former Berlin Wall, this multicultural city has something to offer for people from all walks of life.

The Marburg site has been part of the BioNTech SE network since 2020 and produces the COVID-19 vaccine in one of the largest mRNA production facilities in Europe.
With the BioNTainers, our solution for a modular mRNA production system to support scalable vaccine production, we are developing another innovative production concept at the Marburg site.

Cambridge, Massachusetts (MA) is home to the new BioNTech US headquarters. As a key research and clinical development hub, BioNTech US focuses on the development of novel neoantigen-targeted T cell therapies. Bringing together an impressive combination of research institutions, biopharmaceutical companies and venture capital, MA has developed a reputation as the #1 life science cluster in the world. Here, you can find over a dozen life science incubators and over 30 million square feet of lab space. The MA biotech industry is thriving as illustrated by its 3,109 life science companies employing 116,780 workers and a 35% growth rate in the last 10 years alone. Boasting over 122 colleges and universities, it comes as no surprise that MA also attracts the most highly educated workforce in the country.
Cambridge is nestled just across the beautiful Charles River from Boston and famous for its world-renowned universities, including Harvard and MIT, whose student bodies comprise almost one third of the city's population. Not only is Cambridge forward-looking with its top tier universities and exciting city center, it also holds a deep history dating back to the Mayflower and American revolution as reflected by the state's license plate slogan: "Massachusetts, the Spirit of America". With a unique combination of past meets present, and unprecedented focus on scientific advancement, this American city is the perfect spot for the American BioNTech headquarters.

Gaithersburg, MD is our newly formed clinical manufacturing site for BioNTech US. Together with the BioNTech US North American Headquarters in Cambridge, MA, both the Gaithersburg and Cambridge sites are an important part of our global effort to pioneer the development of novel immunotherapies against cancer and infectious diseases. BioNTech US is a subsidiary of BioNTech SE with a strong foundation in Europe. As a key research and clinical development hub, it is focused on the development of novel neoantigen-targeted T cell therapies, complementing BioNTech's highly innovative scientific approach and diversified pipeline.

BioNTech R&D (Austria GmbH) is based in Vienna, Austria. It expands our infectious diseases portfolio and focuses on the development of a new class of antibacterial agents. Located in close proximity to the Austrian Alps, the city of Vienna boasts impressive imperial architecture such as Schönbrunn Palace, the Opera Ball and the famous Sachertorte (a rich, layered chocolate cake). To explore the culture, you can stroll through Vienna's numerous museums with famous collections of world-renowned artwork, visit the opera, or relax in one of Vienna's many coffeehouses.

As BioNTech, it´s our goal is to provide a unique candidate experience based on our culture and values. Please take a minute and pay attention to the points below to make sure you´re speaking to the right person to help you find your next job at BioNTech.
BioNTech recruiters will always communicate with you from a @biontech.de or @biontech.us email address. We will never use other e-mail hosts (e.g., yahoo.com, gmail.com, hotmail.com, aol.com) in our recruitment process
Interviews may be conducted over the phone, via a video conferencing service (Microsoft Teams) or in person
Offers of employment are only extended once a candidate has also been interviewed with members of the hiring team. Offers will be extended both verbally and in written format via a contract or offer letter
BioNTech recruiters will never require any fees, payments or ask for access to any of your financial, bank or any other sensitive types of accounts
All our available job openings are posted online on https://jobs.biontech.de/