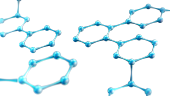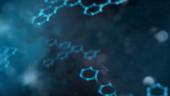 Modulating the immune system with small molecules has the potential to activate important pathways in the immune cascade. Our Toll-like receptor (TLR) platform aims to address targets previously inaccessible to drug treatment to induce an effective immune activation against cancer.
Small Molecule Immunomodulators
Small molecules are compounds with a small size that can easily penetrate tissues and modulate targets inside and outside of cells. The candidates of our Small Molecule Immunomodulator platform are designed to activate specific TLRs that subsequently activate a highly efficient immune response involving a wide range of immune cells. These TLRs are usually involved in the reaction to specific danger signals upon viral invasion. Our novel approach leverages this powerful TLR-mediated immune activation to circumvent immune evasion mechanisms by cancer cells, aiming to provide a new angle for cancer therapy.
As demonstrated in studies thus far, a major challenge in using these TLRs for cancer therapy is the occurrence of adverse reactions and toxic effects already at low doses due to the release of a broad range of pro-inflammatory cytokines. With our platform, we can create candidates that target their intended TLR with high specificity and activate the intended immune activation pathways without triggering the unwanted pro-inflammatory cytokine release, potentially minimizing unwanted side effects and broadening the therapeutic window for our product candidates.
At a glance: Our Toll-like Receptor Binding Platform
Concept: Small molecules activating a powerful immune response to circumvent immune evasion by cancer cells
Mechanism: Small molecules activating specific TLRs that subsequently trigger a highly effective immune response
Therapeutic Areas: Solid tumors, including extensive-stage small cell lung cancer
At a glance: Our Toll-like Receptor Binding Platform
Concept: Small molecules activating a powerful immune response to circumvent immune evasion by cancer cells
Mechanism: Small molecules activating specific TLRs that subsequently trigger a highly effective immune response
Therapeutic Areas: Solid tumors, including extensive-stage small cell lung cancer