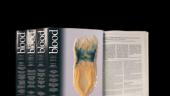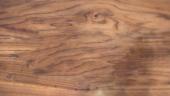 Wissenschaftliche Genauigkeit liegt uns am Herzen. Wir werden auch in Zukunft Innovationen vorantreiben, indem wir unsere wichtigsten Forschungsergebnisse in Peer-Review-Publikationen veröffentlichen.
Entdeckungen und Entwicklungen auf dem Weg zum medizinischen Durchbruch
Das Bild oben zeigt das Titelblatt der Fachzeitschrift Blood, in der 2006 die erste mRNA-bezogene Veröffentlichung der BioNTech-Mitbegründer mit dem Titel "Modification of antigen-encoding RNA increases stability, translational efficacy, and T-cell stimulatory capacity of dendritic cells" veröffentlicht wurde. Seit Ende der 1990er Jahre begannen sie einen systematischen Entdeckungs- und Optimierungsprozess, um die grundlegenden Probleme der RNA zu lösen: eine geringe und kurzlebige Proteinproduktion. Auf die Veröffentlichung von 2006 folgte eine Reihe von Artikeln in den Jahren 2007 bis 2010, in denen weitere Verbesserungen der mRNA-Technologie festgehalten wurden. Die von Sahin und Türeci eingeführten systematischen Prinzipien für das Design von mRNA-Impfstoffen wurden zum weit verbreiteten Standard für die Optimierung von Vektorgerüsten für die mRNA-Therapie. Entdeckungen und Entwicklungen, die mRNA so leistungsfähig machen, dass sie als Medikament eingesetzt werden kann.
Krienke C, Kolb L, Diken E, Streuber M, Kirchhoff S, Bukur T, Akilli-Öztürk Ö, Kranz LM, Berger H, Petschenka J, Diken M, Kreiter S, Yogev N, Waisman A, Karikó K, Türeci Ö, Sahin U.
A noninflammatory mRNA vaccine for treatment of experimental autoimmune encephalomyelitis
Science, 2021
K.Reinhard, B. Rengstl, P. Oehm, K. Michel, A. Billmeier, N. Hayduk, O. Klein, K. Kuna, Y. Ouchan, S.Wöll, E. Christ, D. Weber, M. Suchan, T. Bukur, M. Birtel, V. Jahndel, K. Mroz, K. Hobohm, L. Kranz, M.Diken, K. Kühlcke, Ö. Türeci, U. Sahin
An RNA vaccine drives expansion and efficacy of claudin-CAR-T cells against solid tumors
Science, 2020
Simon P, Omokoko TA, Breitkreuz A, Hebich L, Kreiter S, Attig S, Konur A, Britten CM, Paret C, Dhaene K et al (2014).
Functional TCR retrieval from single antigen-specific human T cells reveals multiple novel epitopes.
Cancer Immunology Research, 2014
Proteinbasierte Therapeutika
Small-Molecule-Immunmodulatoren
Vascotto F, Petschenka J, Walzer KC, Vormehr M, Brkic M, Strobl S, Rösemann R, Diken M, Kreiter S, Türeci Ö, Sahin U.
Intravenous delivery of the toll-like receptor 7 agonist SC1 confers tumor control by inducing a CD8+ T cell response.
Oncoimmunology, 2019