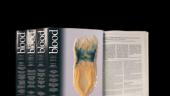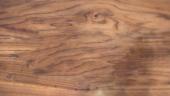 Wissenschaftliche Genauigkeit liegt uns am Herzen. Wir werden auch in Zukunft Innovationen vorantreiben, indem wir unsere wichtigsten Forschungsergebnisse in Peer-Review-Publikationen veröffentlichen.
Entdeckungen und Entwicklungen auf dem Weg zum medizinischen Durchbruch
Das Bild oben zeigt das Titelblatt der Fachzeitschrift Blood, in der 2006 die erste mRNA-bezogene Veröffentlichung der BioNTech-Mitbegründer mit dem Titel "Modification of antigen-encoding RNA increases stability, translational efficacy, and T-cell stimulatory capacity of dendritic cells" veröffentlicht wurde. Seit Ende der 1990er Jahre begannen sie einen systematischen Entdeckungs- und Optimierungsprozess, um die grundlegenden Probleme der RNA zu lösen: eine geringe und kurzlebige Proteinproduktion. Auf die Veröffentlichung von 2006 folgte eine Reihe von Artikeln in den Jahren 2007 bis 2010, in denen weitere Verbesserungen der mRNA-Technologie festgehalten wurden. Die von Sahin und Türeci eingeführten systematischen Prinzipien für das Design von mRNA-Impfstoffen wurden zum weit verbreiteten Standard für die Optimierung von Vektorgerüsten für die mRNA-Therapie. Entdeckungen und Entwicklungen, die mRNA so leistungsfähig machen, dass sie als Medikament eingesetzt werden kann.
Krienke C, Kolb L, Diken E, Streuber M, Kirchhoff S, Bukur T, Akilli-Öztürk Ö, Kranz LM, Berger H, Petschenka J, Diken M, Kreiter S, Yogev N, Waisman A, Karikó K, Türeci Ö, Sahin U. 
A noninflammatory mRNA vaccine for treatment of experimental autoimmune encephalomyelitis
Science. 2021 Jan 8;371(6525):145-153. doi: 10.1126/science.aay3638. PMID: 33414215.
K.Reinhard, B. Rengstl, P. Oehm, K. Michel, A. Billmeier, N. Hayduk, O. Klein, K. Kuna, Y. Ouchan, S.Wöll, E. Christ, D. Weber, M. Suchan, T. Bukur, M. Birtel, V. Jahndel, K. Mroz, K. Hobohm, L. Kranz, M.Diken, K. Kühlcke, Ö. Türeci, U. Sahin 
An RNA vaccine drives expansion and efficacy of claudin-CAR-T cells against solid tumors 
Science 10.1126/science.aay5967 (2020). DOI: 10.1126/science.aay5967
Schumacher J, Bacic T, Staritzbichler R, Daneschdar M, Klamp T, Arnold P, Jägle S, Türeci Ö, Markl J and Sahin U (2018). 
Enhanced stability of a chimeric hepatitis B core antigen virus-like-particle (HBcAg-VLP) by a C-terminal linker-hexahistidine-peptide. 
Journal of nanobiotechnology, 16(1), 39. doi:10.1186/s12951-018-0363-0.
Small-Molecule-Immunmodulatoren
Vascotto F, Petschenka J, Walzer KC, Vormehr M, Brkic M, Strobl S, Rösemann R, Diken M, Kreiter S, Türeci Ö, Sahin U (2019). 
Intravenous delivery of the toll-like receptor 7 agonist SC1 confers tumor control by inducing a CD8+ T cell response. 
Oncoimmunology. Apr 19; 8(7):1601480.