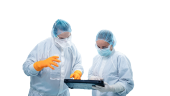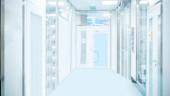 Joining forces to improve health worldwide
Our work at BioNTech is driven by data and a clear vision: To translate science into first-in-class and best-in-class medicines for people worldwide. We endeavor to usher in a new era of immunotherapy to address cancer, infectious diseases, as well as a growing list of other serious conditions. In our journey to deliver therapies for a healthier tomorrow, we have successfully established a network of world-class corporate and scientific partnerships.
BD Contact
If your team is interested in collaborating with us, please contact us to learn about partnering and collaboration opportunities.
Alongside our industry-leading partners, we work on bringing novel therapies to the patients who need them most.
Bill & Melinda Gates Foundation
In September 2019, we entered into a partnership with the Bill & Melinda Gates Foundation to develop HIV and tuberculosis programs based on our proprietary mRNA vaccine technology. The investment was the largest equity investment made by the Foundation's Strategic Investment Fund to date. The collaboration comprises identification and pre-clinical development of vaccines and immunotherapies for these infectious diseases and strives to provide affordable access to world-class medicines in developing countries. The collaboration may also be extended to other infectious disease indications.
Scientific Collaborations
BioNTech collaborates with a large number of universities and medical centers in Europe and the U.S. to discover and develop new immunotherapies.
Ci3
Ci3 is a scientific, clinical and regulatory network of over 500 scientists committed to advancing "new to the world" immunotherapies.
DZIF
The DZIF (German Center for Infection Research) aims to bridge the gaps between the discovery of new treatment approaches, preclinical development and clinical testing.
TRON
TRON is a biopharmaceutical research organization that pursues the development of new diagnostics and drugs to treat cancer and other severe diseases. TRON was founded to facilitate clinical translation of innovative science by interfacing between public and private stakeholders and bridging the gap between research insight and mature product development.
University of Pennsylvania
In October 2018, we entered into a research collaboration with the University of Pennsylvania that provides us with the exclusivity to develop and commercialize mRNA immunotherapies for the treatment of up to 10 infectious disease indications with BNT163 entering the clinic in in December 2022. BNT163 is an HSV vaccine candidate for the prevention of genital lesions caused by HSV-2 and potentially HSV-1.